JYJ3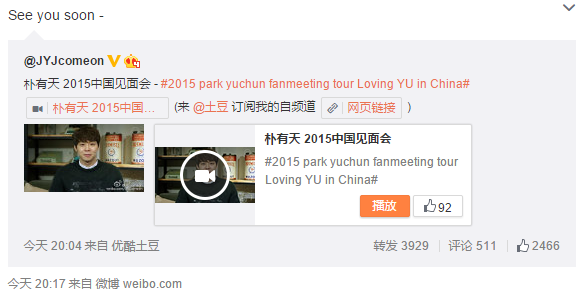 Sources:JYJcomeon + 朴有天_Official
*
[VIDEO + TRANS] 150118 Park Yoochun's Greeting for 'Loving YU' Fanmeeting Tour
<Original video – Youku link HERE>
<In Chinese>
Greeting, friends (fans) in China. I'm Park Yuchun.
<In Korean>
This time around in China, 7th February in Beijing, 14th in Chengdu and 1st March in Shanghai…I can finally meet all of you. It's been a long time since I've had solo activities and not with JYJ so, I'm also in much anticipation. I hope the time will quickly come and it will be great if we could share many good and warm conversations.
<In Chinese>
Let's meet in China!
Credit: Micky baidubar
Translations by: yochwennie via CHUNcited
Shared By:JYJ3
<Original video – Youku link HERE>
Credit: Micky baidubar
Translations by: yochwennie
Shared By:JYJ3