JYJ3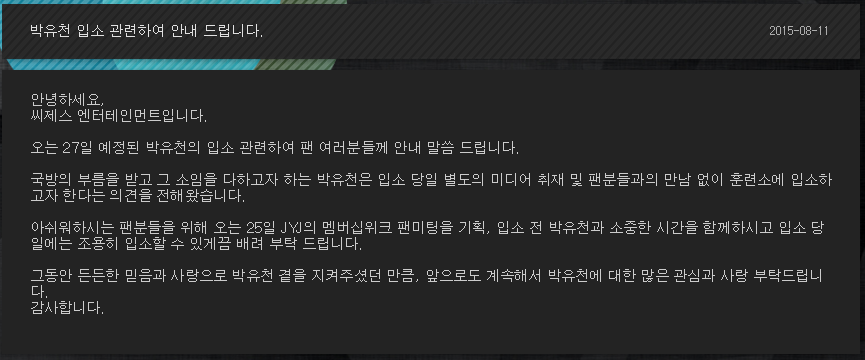 Hello,
This is C-JeS Entertainment.
In regards to Park Yuchun's admittance which he's slated to enlist this August 27, we would like to address all of his fans.
Accepting the call of national defense and doing his best in fulfilling his duty, Park Yuchun has conveyed his opinion that he would like to enter his training camp without special media coverage and a meeting with fans on the day of his admittance.
Park Yuchun is planning JYJ's Membership Week fanmeeting and going to share his precious time with fans who'll miss him on August 25, before he is admitted. We would appreciate that you consider letting him enter into training quietly on the very day of his admittance.
We would appreciate the great interests and love toward Park Yuchun to continue in the future, as much as you have stood by Park Yuchun in protection with reassuring faith and love in the meantime.
Thank you.
Source:C-JeS Official Homepage
Translated by: rilanna of JYJ3
Shared by:
Lihat pos aslinya 1 kata lagi